Can a tuned, base model new Civic be as fun – and as fast – as a Type R?
That's the question Spoon wants us to ask ourselves about the FK7 Civic. Undoubtedly, the new FK8 Civic Type R has been a huge success; since launching in 2017 demand has been strong for the high-power hatch, and only very recently did the new Renault Megane steal the Nürburgring FF crown.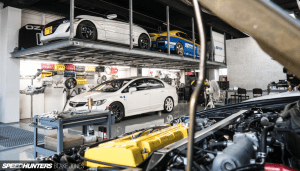 But those of us with a bit of grey in our hair will remember a time when Type R simply meant less weight, more RPM, stiffer everything, no variable suspension or drive modes, and certainly no turbocharger. The good ol' days, it seems, are dead.
So where does that leave the multitude of tuners who built their business on the back of Honda's particular performance recipe? It seems to me like the modern day boosted Honda owner might not look as quickly to names like Mugen, J's Racing or Spoon as they once did.
I decided to visit Spoon to find out.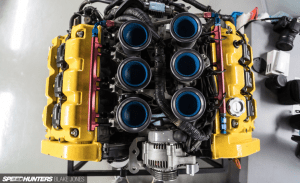 Although we're talking modern turbocharged Hondas today, there are still plenty of classic hits from the big H to be enjoyed at the Type One HQ in Suginami-ku .
The simply awesome Spoon S660 I'd driven a year ago has had its development finished, and was resting on the second level storage rack.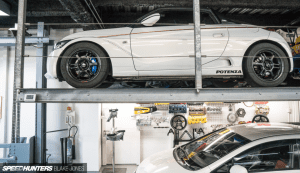 I spent what felt like hours poring over this NSX engine, which powered the Spoon NSX-R at the Macau GP back in the day. Dino did a feature on that car in 2011. With 3.5-litre capacity and plenty of trick bits (like the Toda individual throttle bodies you can see here) it made over 400hp – Project NSX was getting serious engine envy.
It's always a pleasure just spending time at Type One; there's never a shortage of interesting cars and car parts to check out.
The current model Civic isn't a car that instantly drew me in with its slightly awkward angles when I first saw it back in 2017. However, seeing this white example hunkered down over a classic Spoon wheel design did get me a bit excited.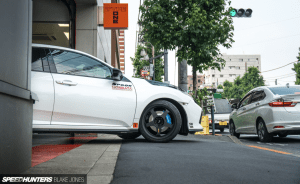 Most of the development work for the FK7 has been led by 20-year Spoon veteran Daisuke Jomoto between racetracks in Japan and the US. This very prototype has already lapped Tsukuba faster than the current production Type R, an undoubtedly impressive feat.
Daisuke handed me the keys, apologised for the noisy diff (a prototype LSD), and I was on my way.
To put the Spoon FK7 through its paces I'd be leaving the confines of the Tokyo metropolis and heading north, passing through the city of Nikko and into the mountains that form the natural border around the Kanto region.
The scenery up here is beautiful, and the area is a popular weekend getaway for Tokyoites – in winter for the ski fields, and in spring/fall for the spectacular transitionary colours of the native flora. Summer is a bit of a dead season, which makes it the perfect time to come in search of touge.
The miles of perfect highway stretching north of Tokyo revealed very little about the Spoon FK7. Many of the creature comforts including the stereo have been deleted from this demo car, and the stock driver's seat binned in favour of a carbon-Kevlar Spoon bucket with about as much padding as a newspaper on a church pew. I suspect some sound deadening had been removed too, as I had only my thoughts and the constant thrum of the Bridgestone Potenza RE71R's sticky outer carcasses to listen to.
Comfortable it most definitely is not, but that's not a parameter this car is built with any concern for.
It should rather be judged on how quickly one can get from point A to B, and how much fun the driver has extracting that performance. Thankfully, I found just the roads to make that judgement.