So you want to rally race? You have the need for speed and excitement, where do you begin? There are tons of local rally clubs that you can join with your street vehicle to learn the ins and outs of rally. They will be there to guide you through all the challenges. Another great way to get started is to volunteer at one of the big national rally events.
Now this sounds all cute and pretty, but we are talking about rally racing! The jumps, the drifts, the near misses… the championship! How do you become a rally racing champion? We turn to "Crazy" Leo Urlichich and Tatiana Nikolaeva for some answers.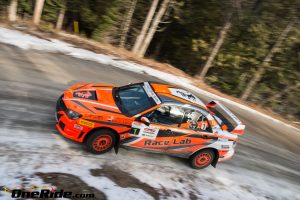 We all know fan favourite Crazy Leo from past events. He's one to remember because of his no fear driving style. But we don't know Tatiana, Leo's girlfriend. It was weeks before The Rally of the Tall Pines when Leo announced that his co-driver would be Tatiana Nikolaeva, his girlfriend. And it would be a #rallydate, as Crazy Leo calls it. What makes this so special is that this would be Tatiana's first rally! She is learning on the fly.
This is what Leo wrote on his Instagram account, giving us some insight on what it takes to learn to rally…
Do you know how important co-driving is in any rally?
Any wrong or late note can cost you everything.
Normally it takes years and years of experience to become a good co-driver.
That's why it was such a challenge to run @rallytallpines with a newbie co-driver!
Yes, it was a #RallyDate and yes the essential goal was just to enjoy the ride.
But we both follow one of the major rules in everything we do: 'do everything you can!.. and more!' That's why for almost two weeks we were studying my pacenote system, watching onboards and reading rules, regulations and a 'A guide to rally co-driving' book by Mark A. Williams. And by Friday evening before the race we knew that we did everything we could! The last thing which we had to do was to relax and enjoy.
Can you imagine how surprised we were when we went through the first stages with great stage times!
Anyway, it all was possible only because of determination and enjoying the moment.
If you want to feel what real rally is, but can't afford huge investments into a rally car – make the first step and become a co-driver!
So how did this crash course work out at The Tall Pines? Tatiana guided Leo to a first place finish! This is truly an amazing accomplishment! If you want to learn from one of the best you should book some driver training from Crazy Leo's driving school, RaceLab. Check out RaceLab.co for all the details.
It seems like Leo and Tatiana had so much fun that they didn't want it to end. That is why they decided on #rallydate2. They made the cross country journey to Kelowna, B.C. to complete in The Big White Rally just weeks after The Tall Pines. They are going to complete for the Canadian Rally Championship. Unfortunately on the second stage they hit a ditch and broke a control arm. This means that they received just over 8 minutes in penalties and will have to "send it" on day two to make up the time!
Cover photo credit: GoFastPhotography