I am a big fan of spending money where it will be worth it. And the winch for my ATV would fit that category. Yes I know you can find cheap winches on sale at your local power sports shop but is it wise decision to cheap out for something that can get you out of a jam? Leaving you stranded in the middle of nowhere. I once pulled a car out of a ditch and up a 150 foot snowy, icy, uphill driveway; to save a New Year's Eve dinner plans. That evening I realized how strong, useful and important my winch can be. I have the experience of buying a cheaper winch, and my experience points me to always buy a Warn winch. Which is what I used to pull that car. At this point I wouldn't bother looking else where.
Warn has just released a new line, AXON. I do not have any hands on experience with these yet, but I think it is worth looking into what these new winches have to offer. This is what Warn has to say about AXON…
With the all-new AXON™ lineup, WARN has taken winching to the next level by combining a powerful motor and first-of-its-kind digital contactor into one unit called a Motactor™. The WARN Motactor™ increases performance, drops installation time, and provides never-before-seen levels of performance and feedback to the user. Tech is nothing without durability, so we made AXON the most durable powersports winch ever. All-metal construction, waterproof sealing, and increased structural rigidity are made for extreme environments. It's smart, tough, and perfect for a wide range of powersports vehciles. Available in 3,500, 4,500, and 5,500 pulling capacities, with a choice of steel or Spydura™ synthetic rope.
+ Motactor (motor + digital contactor) dramatically simplifies winch installation —reducing install time by up to 50%
+ Advanced digital controls allow for monitoring of speed, load, and motor temperature
+ Built-in load limiter prevents damage from overloading winch
+ All-metal, waterproof construction is exceptionally durable and keeps the elements out
+ All-new modular controls allow for expandability
+ Robust new clutch design based on legendary WARN 4WD hub lock know-how
+ Limited lifetime warranty (mechanical), 3 year warranty (electrical)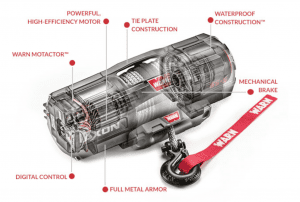 Get all the details from Warn's site.