Rotarolla: A Toyota That Braps
Toyota Corollas are known to be some of the most reliable cars on earth, so why the hell would someone put in rotary engine in one?
That's an interesting question indeed. KE70 Corollas in particular have become super-popular performance build bases over the years, and for good reason. They're straight forward, easy to modify, and most importantly rear-wheel drive, hence why petrol-heads do all kinds of weird and wonderful things to them.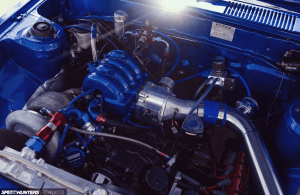 The most common engine swap is without a doubt the 4A-GE, an engine known for its reliability and tuneable nature. Sticking with Toyota, there's also the 1UZ-FE, which I've seen in all kinds of forms in these cars – normally aspirated, single turbo and even twin turbo. Another popular option is the 1JZ-GTE engine, or if you want to go all-out a 2JZ-GTE, both of which can make serious power. We can't forget the 3S-GE Beams and the older 7M-GTE, either. […]