The new Toyota Supra just came out, right? Wow! Look at this craziness at SEMA. So many "jacked" Supras! Let's see what the guys from SpeedHunters had to say about their visit to SEMA….
It doesn't feel like all that long ago we were waiting for the final reveal of the new Supra after an eternity of teasing from Toyota.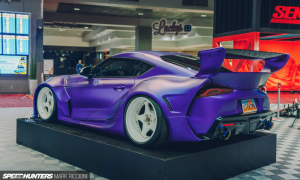 It's hardly surprising then that after such anticipation, SEMA 2019 could easily be mistaken for A90 SupraFest instead. Our team on the ground counted over 30 examples during load-in and the main hall alone, and we're sure there are more hiding throughout the Las Vegas Convention Center.
This was always going to be the case, as SEMA is the first major international aftermarket show since owners and shops started taking delivery of their own A90s after Tokyo Auto Salon.
You're all aware at this point of the amount of conversation this car has generated since its official reveal, and it's not territory which we're going to cover here again. Everyone has their views on the car already, and it's probably a waste of time trying to convince anyone to change their mind, either way.
There is, however, one thing which we should all be able to get behind, and that's the injection of excitement that the A90 Supra has brought to the industry. It's been a while since we've had a new car which has generated this much hype and interest straight from the factory. […]