Need plans for the weekend? You should be in Bancroft to witness The 2019 Lincoln Electric Rally of the Tall Pines. You really don't need an excuse to hang out in Bancroft, Ontario, do you? Especially when the rally is on. The 7th event in the Canadian Rally Championship is coming up November 22 & 23 and it is far from the same old story line.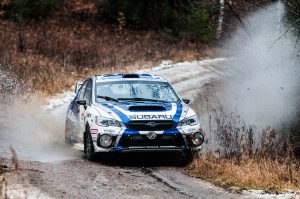 What's the same? Well you can say the excitement, the adventure, the beautiful scenery and the fresh beer from Bancroft Brewing Co. Familiar sponsors like Lincoln Electric, Tim Hortons, M&M Esso, and Vance Motors to name a few. Race wise you can expect 120km of stage racing with 321km of transit. Challenging conditions are typical for this race, which make for some great spectator action!
What's new this year? Well let's start from the top, with the new race coordinator, Bruce Leonard. The Golton night stage has been eliminated and two final stages in Hastings Highlands have been added. They run on Cross Country Road and McDonald Mine Road. They are well maintained roads and run fast and could very well determine the winner of the rally.
The event has also been moved from the U.S. Thanksgiving weekend which gives American teams a better chance to attend. This year brings back Conner Martell from Vermont Racing as well as Rob Sanders with his 2018 Subaru WRX. Fan favourite Crazy Leo also makes his return!
This weekend is poised to be top notch! Make sure you post your rally experience here and find event coverage on OneRide.com. For more rally info check out TallPinesRally.com.