Well this looks interesting… will Honda come out with a bad ass dirt eating machine? I would love to see the hardcore guys like NOS ATV, Eh TV, XM Army and Elemental ATV get their hands on one of these. What mayhem would they cause! Truck Trend got their first drive in the Honda ROAV. This is what they had to say.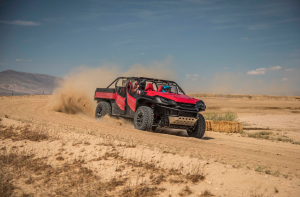 We expected the Honda Rugged Open Air Vehicle (ROAV) concept to shake, fold and reform its red and black panels into a human-shaped robot then stomp off to fight crime. It would be a good guy, we think. After all, it's Honda, known for safety and radio commercials about community service. While it turns out that the ROAV can't change into a crime-fighting humanoid, it can transform a dull, hot afternoon in the Mojave Desert into rooster-tailing, dirt-drifting, fist-bumping hilarity, and that certainly saved my day.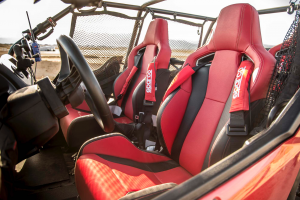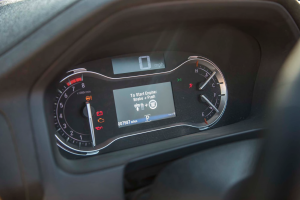 We weren't sure what to expect when Honda invited us out to drive the ROAV concept. We'd seen it at the Specialty Equipment Market Association (SEMA) Show in Las Vegas in 2018, all gangly rollbars and textured composites, but show cars are usually just that, for show. We couldn't believe the ROAV ran, let alone that Honda would let anyone drive it. As it turns out, the company didn't originally plan to allow anyone behind the wheel of the ROAV, but the combined efforts of the PR team and the lead engineer on the project, John Barlow, got the ROAV out to Honda's Proving Center in Cantil, California, where it loomed over its small Honda side-by-side brethren like an ostrich chick among ducklings. The Honda Talon is perky and fun-sized, what you expect from an off-road UTV. The Ridgeline-based ROAV, even without cab and body panels, is—as the kids say—a big boi.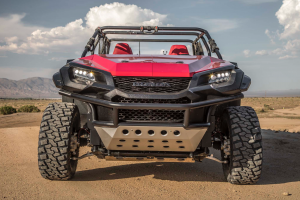 The Honda Ridgeline doesn't seem like the most obvious starting point for an off-roader. First off, it's a unibody, more like a crossover SUV than the traditional body-on-frame pickup, and it doesn't offer the ground clearance or low gearing of competitors. But Honda has been quietly making waves with the soft-riding Ridgeline and the new Passport, using smart all-wheel-drive programming to make up for the lack of an old-school transfer case, and the ROAV has a special mode just for this build, which sends power to the rear wheels and lets a driver wag the tail like a Labrador puppy. Barlow warns me not to get too crazy on the whoops-filled course, since the dampers and springs are production pieces, but other than the no-jumping rule, it's pedal-down and dirt up.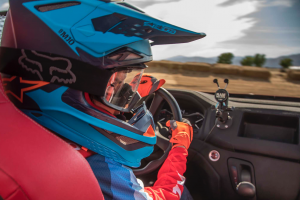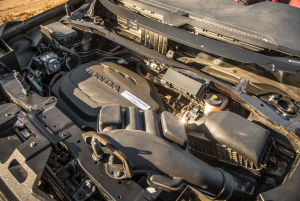 The ROAV started as an internal exercise. Honda holds a yearly brainstorming session where employees are given 24 hours off their normal duties and encouraged to present their wild and wacky engineering dreams. Barlow, along with Yousuf Riad and Tony Gloriosa, put together an idea for an open-air vehicle—inspired not by buggies or rockcrawlers, but by a little roadster Barlow once owned and regretted selling. "I just love that feeling of the wind in your face," Barlow tells me. "It's like anything bad, any stress, it just blows away, and I wanted to share that feeling." Barlow's team didn't expect their proposal to go anywhere past the fun-idea stage, but the executives at Honda R&D Americas liked it and suggested taking it to a concept form—with a slight off-road twist. […]