If there's anything I've learned from SEMA this year, it's that the best place to enjoy the event is from the comfort of my own home, some 5,000 miles away.
Okay, maybe I'm a little bit jealous of our own Team Brexit enjoying the Nevada sunshine, the neon lights and the general positive vibes of Sin City, but I don't envy the mammoth effort required just to get around the show while trying to identify the cars which need to be captured and shared.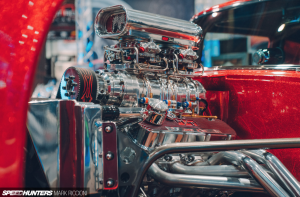 Factor in a healthy dose of jet lag, and the rain outside my window doesn't feel so bad after all.
I do think the best way to document SEMA is to cast as large a net as possible. It's pointless to become fixated on one or two builds at the expense of the rest, as there's nearly always something just as, or even more exciting around the corner. SEMA rewards graft.
Mark must be of the same opinion, as this gallery of engine bays from the Las Vegas Convention Center covers pretty much every major engine layout you can think of: vees, inlines, flat-fours, turbocharged, supercharged, naturally aspirated and even spinning triangles.
By presenting such a wide variety of applications, it also allows us to gauge what you're most interested in, so we can chase them up at a later date. I've definitely spent longer looking through these photographs than writing the short pieces of copy which accompany this gallery (quelle surprise I hear you say), but there's definitely more than one in here that I want to know much, much more about.