Welcome to a warm spring day in late March at Fuji Speedway's lesser known gymkhana course, nothing more than a big wide open space of tarmac that sits right above the drift course. It's the perfect venue to hold smaller driving courses, or in this case, shred some serious rubber.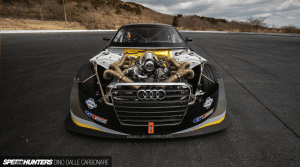 As I pulled in to the carpark, the team I had arranged to meet was already there setting up. The invitation had come from Iikuta-san, a name you may be familiar with if you follow Japanese professional drifting. After seeing his Audi A5 at the Kinokuni booth at Tokyo Auto Salon in January, I knew I needed to follow the development of the car as it was prepared for its foray into this year's Formula D Japan championship.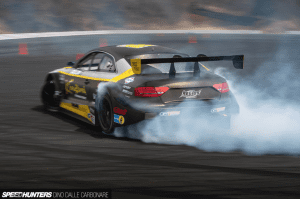 FD Japan is what I now like to refer to as the fun professional drift championship in Japan.
Shortly after my arrival, Mori-san from Auto Service Mori rolled in with his Kazama Auto-kitted S15 street drift car. He only stayed for an hour or so, wanting to see and hear what most people were all patiently waiting for that morning; that ridiculous 7.4-liter LSX 454R motor crank into life. In all my years of covering drifting in Japan, I have never seen a team operate as meticulously and as professionally as the guys from Helios, the racing outfit that built the entire car.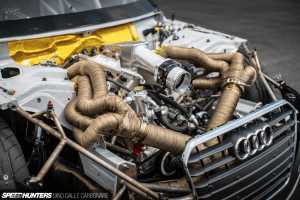 There is nothing 'drift' about them – they are a full-on, high-level motorsport outfit. You notice it in everything they do, from the way the car has been built to the way they prepared it prior to its first run.
Every single component of the car was checked and double checked before that first start up to gently warm the engine's vital fluids. It was educational seeing them track down an issue with the fuelling system, with the pumps not priming when given power. They trouble-shot through every piece of the puzzle before realizing the issue spanned from a connector, and moments later we were all greeted with the reassuring buzz of fuel lines being pressurized.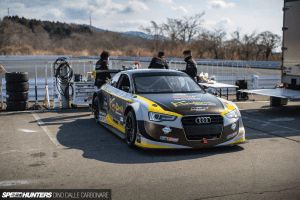 The LSX was then sparked into life, the savage raw idle of its high compression nature resonating against the mountains that serve as a picturesque backdrop to Fuji Speedway. […]