And Then There Was ONE
When the name of your vehicle starts with the word "Alpha", you better have something unique that helps creates a trend or at least something better than most. Josh Burnett succeeded with his 2017
Ford F-450
Platinum dually in both of those categories. Josh grew up in East Texas and custom trucks were just a way of life. The first time he remembers seeing a custom truck was at the age of ten, "I remember my family friend Shawn Hickey coming by my house with his custom
Ford
truck," Josh tells
Truckin
, "I don't even know why, I just know he stopped by, and I was mesmerized."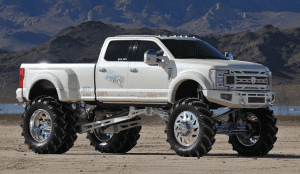 Growing up in a very low-income area, Josh couldn't afford a truck to drive and call his own, so he learned what he could about trucks and began building them for other people to earn money. At fifteen, Josh purchased his first truck, a
Dodge
Ram
that was a "piece of junk." He continued learning more about custom trucks and building them for all his friends. Josh eventually went through about sixty different vehicles before walking into the dealership in Decatur, Texas, and purchasing his 2017 Ford F-450.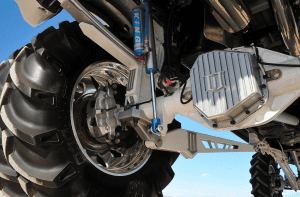 In the past, Josh had been commissioned to build trucks for the SEMA show, but as luck would have it, the trucks weren't able to make it. Once he got his new Ford Platinum home, he decided to guarantee this build would make that long trip. Josh started to search around for companies to help with the build or add him to their booth. The first company to take interest was American Force Wheels out of Miami, Florida. A set of 28-inch American Force Fury were chosen out of their newest catalog by Josh to outfit the rig.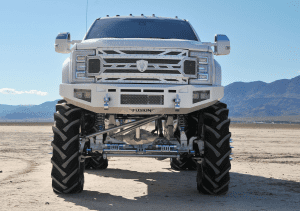 He enlisted Stephen Bayles from B&C Off-Road in Pasadena, Texas, to handle all the heavy work of lifting the brand-new F-450. Fury Off-Road Tires got on board and the tires were sent to Josh, but they didn't work on the wheels he had purchased. This was the very first Ford F-450 that was lifted with 28-inch wheels and it came with quite a bit of trial and error. Josh used B&C Off-Road as a hub for all the parts to arrive. The hard-working crew there added every piece that arrived including the Fusion Bumpers and the Gravel Empire Grille. The process took five grueling weeks of nonstop work to get the brand-new Ford Platinum where he felt it should be. The crew turned over a finished product to Josh just hours before the transport was set to pick it up.